It seems that, the minute someone decides to eat vegan, they inevitably soothe themselves with images of vegan desserts to tide them over while they figure out exactly how many times they'll have to eat salad in the next 48 hours. This is great for the sheer fact that there are TONS of vegan recipes for desserts. This can be bad because, honestly, I'd be losing more weight if I weren't feeling soooo great about packing my gullet with cupcakes, cookies, and ice cream.
Either way, I'm really enjoying the world of vegan desserts - or as my mom would say, "Food that you can have a cup of tea with". Recently, while my parents were visiting us, I came up with the idea to make spelt shortbread and serve it with some lovely coconut milk ice cream and balsamic strawberries.
I took a
whole wheat shortbread recipe
and rewrote it to use spelt and Earth Balance. I was a little worried that the lack butter would result in a sad, tasteless shortbread, but I was mistaken (as I usually am when I think butter can't be replaced). As long as you keep the Earth Balance chilled, and the resulting dough cold enough, the shortbread crisps up perfectly in the oven.
Here's the recipe:
Vegan Spelt Shortbread
2 cups whole grain spelt flour
1/2 cup evaporated cane juice/organic sugar*
1 cup Earth Balance, or similar vegan margarine, cold
1 pinch salt
In a large bowl, mix together flour and sugar until combined.
Into dry mixture, drop in cold margarine. With a pastry cutter, or two butter knives, cut in margarine until the flour mixture and the margarine are combined, making pea-sized crumbles.
Knead a few times until the mixture comes into cohesive lump. You may need to chill the dough off and on if it gets too loose and greasy; I put the dough into the freezer for a minute or two before kneading and then a minute afterwards.
Press dough flat onto an ungreased cookie sheet into a rectangle or square, until it is uniformly 1/4 inch thick. I used a rolling pin to even out the top surface. Pierce the surface all over with a fork at 1/2 inch or so intervals. Most likely, there is someone who would think it's a "good thing" to have the little holes all aim the same way, but I lost interest halfway through.
Bake in a preheated 325 degree oven for 25 minutes.
While still warm, cut into squares, or whatever you want -- this isn't a dictatorship. Let cool another 15 minutes on cookie sheet and then transfer to a wire rack to cool. Make sure they are entirely cool before storing so that they stay crispy.
Voila! Shortbread!
* You can find Evaporated Cane Juice or organic sugar at your local health food store or Whole Foods-type place. It's basically slightly less processed sugar, so you vegans will not have to worry about whether or not it's been processed with the charred remains of animals (yuck, I know). It also has the benefit, for me, of reacting better with my blood chemistry, helping me avoid sugar rushes and heart palpitations that I get from white sugar and corn syrup. You could also use Sucanat, Florida Crystals, etc.
***
After the cookies were cooled, we served them over some store bought coconut milk ice cream and balsamic strawberries: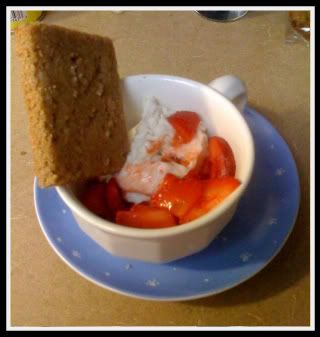 You can make balsamic strawberries by slicing a container of washed strawberries, drizzling a little agave nectar and balsamic vinegar over them (we're talking teaspoons here) and letting them sit in the fridge for an hour. You could also use a bit of organic sugar instead of the agave. It may seem weird to put balsamic vinegar on your dessert, but it's fantastic. =)